Unsolved cases are highlighted in this section.
Additional area unsolved cases can be found by clicking on this link from Corey's Network Inc., A Foundation for Hope, a local 501c3 that provides immediate support, advocacy and services to surviving victims of homicide in the Kansas City metropolitan precincts without advocates.

Corey's Network Inc., - A Foundation for Hope
Anyone with any information about any of these cases is urged to call the police department where the crime happened.
If you would like to remain 100% anonymous, please submit information to the The Greater KC Crime Stoppers via 816 474-TIPS, kccrimestoppers.com, our P3 app, or scan our QR code. Any anonymous tip submitted to the Greater KC Crime Stoppers that leads to an arrest in the case will be eligible for a cash reward. In some of these cases additional rewards have been set up through the Kansas City Metropolitan Crime Commission.
IF YOU KNOW SOMETHING, SAY SOMETHING!
Lakota Renville Homicide
October 16, 2005
On October 16th, 2005, a pedestrian walking in the area of 92nd and Pitcher Road in Independence, saw what they thought was a pile of trash in a vacant lot there. When they looked closer it turned out to be carpet padding and a blanket rolled up around the body of 22 year-old Lakota R. Renville. Only her head was exposed.
Independence police responded and immediately started an investigation that revealed the victim had been beaten and stabbed to death. Neighbors told police that as of 7:00 that morning the "pile of trash" had been there but no one looked more closely at that time, as illegal dumping was common in the area. Other neighbors said they did not see it.
Police learned the victim worked as a prostitute along Independence Avenue in Kansas City and had been with a customer as late as 3:30 that morning. DNA testing cleared that customer of suspicion. About an hour before the body was found an Independence police officer on patrol in the area had seen a brown, nineties model Ford Explorer park in the lot where the body was found. There didn't seem to be anyone around and the truck blocked the view of the spot where Lakota's body was. It is unknown if this vehicle had anything to do with her death.
Police said it appeared she was killed elsewhere and her body dumped in the lot. The blanket in which she was found was distinctive and they hope it may trigger someone's memory. It was a southwestern themed blanket with a desert scene with a skeleton head of a steer with horns. The spring following her murder, Lakota's tribe held a blessing ceremony at the spot where she was found to help bring peace to her spirit.
Police hope some has information that will bring justice as well.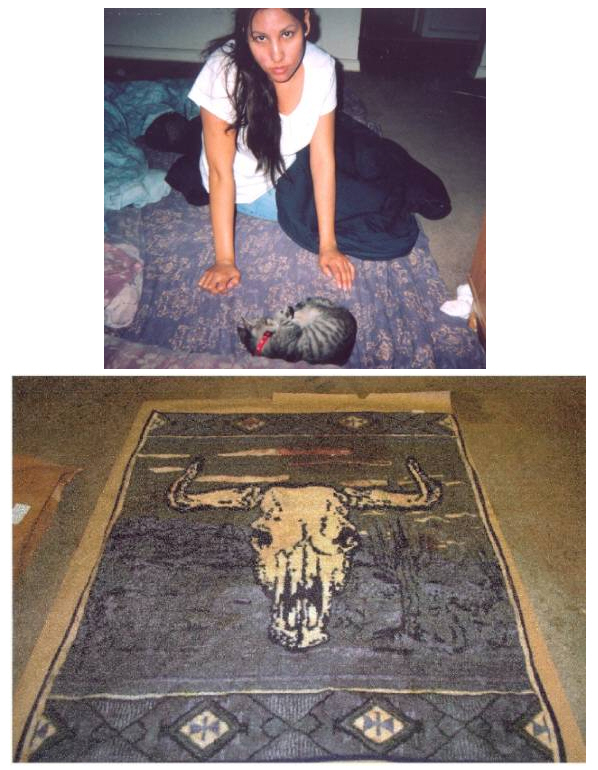 ---